Origin of the Knights Templar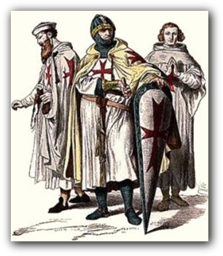 Europe and the Holy Land

The Order of the Temple was founded in A.D. 1118 by Hugh de Payens in Jerusalem after the first Crusade to protect pilgrims in the Holy Land. Ten years later, the Council of Troyes sanctioned the Order's Rule, as formulated by St. Bernard of Clairvaux. As a military force, the order expanded, attracting a great deal of support, money, and property. In 1163, the Order was recognized as a sovereign force. Throughout the Holy Land the Templars fought to defend the faith, owning many fortresses, participating in many battles, and policing the pilgrimage routes. Throughout Europe, including Iberia, England (including Scotland) and Eastern Europe, a network of properties supported the Orders efforts in the Holy Land.

The Christian influence in the Holy Land was diminished after the Battle of Hattin in 1187. The Templar influence began to wane in the latter half of the 13th century, and came to an end after the loss of the Mediterranean port city of Acre in 1291.

After the loss of the Holy Land, the Order retired to Cyprus in 1291.

Scotland

The Order was first established in Scotland in 1128, with its main Preceptory at Ballantrodoch, now the Midlothian village of Temple. With the support of succeeding Scottish kings, particularly David I and Alexander I, II and III, the Order came to posses considerable property, including a second Preceptory at Maryculter in Aberdeenshire, and the Templar houses in Denny, Liston, Thankerton and many more.

The full history of the Knights Templar in Scotland can be found in The Knights Templar and Scotland by Robert Ferguson (The History Press, 2010).